Books we love
---
The Quiet Revolution of the Soul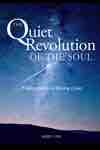 by Al Fike
The soul is a subject that tends not to get much press, and when it does, many commentators frankly do not know the difference between the soul, the mind, the spirit energy and a human being. So its really great to have a commentary from someone who knows these differences, and knows the differences because of a personal journey of soul transformation. In other words, he is talking from experience.
We are supposed to grow our souls here on Earth, but unfortunately far too many teachers claim that all we have to do, is remember who we are. Sadly that is not the truth. The truth is that we have to do the hard yards. And there is a choice here, we can do the very hard yards, or the shorter somewhat hard yards. The choice is whether we ask God to help in this soul transformation, or whether we walk alone. A classic illustration of this harder choice is Buddhism, but its nearly impossible to find a coherent explanation of how we walk this easier path God-Assisted. This is such a book. Read it, read it closely, and put into practice what it recommends and you will also experience soul transformation, as I have indeed. Its not an overnight thing, but if you look back on ten or fifteen years soul growth you will be amazed.
Purchase as a paperback on Amazon
Read this book online or download as PDF
---
Divine Love Mediumship

by Al Fike
Since the inspired work of James E. Padgett who brought through the truths of Divine Love with his gift of automatic writing, many have taken a keen interest in the subject of mediumship. Though there has been some information given to us by Celestial Spirit Guides on what Divine Love mediumship is about, a comprehensive book has not been written until now. Albert J Fike, a Divine Love medium himself, has now written another compelling addition in the series 'Explorations in Divine Love'. It addresses many questions relating to this subject. This book is short and easy to read. It is designed to both educate and inspire the reader. It is not just an instructional book for those who wish to become a medium, but gives valuable information regarding the laws that govern the gift of communication and rapport with Celestial Angels.
Purchase as a paperback on Amazon
Purchase as a paperback on Lulu
Read this book online or download as PDF
---
A comprehensive list of books is held on our main Divine Love Sanctuary site. Ordering instructions or downloadable pdfs are also held there.
Here is an even bigger list hosted on the new-birth site